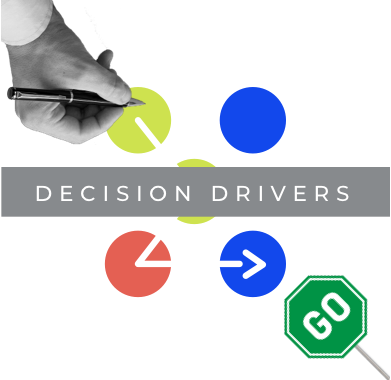 Written by Jim Morrone, CSPO, CSM
Your on-premise or current cloud HCM is no longer meeting your growing and evolving business needs. It's time to replace it with a Cloud HCM, but how do you differentiate the marketplace to evaluate and select a solution for your company? Decision drivers! These will play a critical role in guiding you towards the best solution.
Cool, but what are they? In simplest terms, they are the principles, criteria, and values that we use in making our purchase decisions. You use them every day, but they are usually implicit (you know what toothpaste to buy without having a list of criteria). However, when it comes to technology, "just knowing" isn't good enough as it allows for misunderstanding, inconsistency, and disagreement in the decision-making process.
Got it, so where do we go from here? By creating a set of explicit decision drivers, they become open for discussion, modification, and agreement. This will ultimately provide a fact-based, objective, and systematic method for selecting the best HCM solution for your company.
Nice, but when does this happen for an HCM evaluation? Explicit decision drivers are best determined during the creation of the Project Charter. Decision drivers, and their ranking, are unique to each company and there is no magic formula. Where some may rank Cost and ROI as most important, others will rank Usability at the top. Therefore, understanding the objectives and success criteria of your HCM project is important, along with your company's strategies, priorities, mission, vision, and values.
Wow, so how do we understand all of that? The most efficient way is for a facilitator to participate in team conversations and actively listen for, and seek to clarify, the drivers.  The everyday, matter-of-fact conversations that people have about a subject generally reflects the drivers beneath their thinking – they just need to be listened to actively and played back for confirmation.
Yikes, who can assist us in evaluating a cloud HCM solution? HRchitect, of course! Through our Secure Selection Methodology, we will facilitate, educate, advise, and lead you through the process of not only defining your decision drivers, but assist you in refining your requirements, navigating the HCM marketplace and if desired, create the RFP and manage the vendor demonstrations. With our services, we will remove a huge amount of unproductive noise from a very difficult process and provide a smooth transition to the best possible HCM solution for your company.
The bottom line is that differentiation will guide you in setting apart the vendors you are evaluating to replace your current HCM. Without having decision drivers as your differentiators, you have little basis for choosing one vendor over another.
If you're ready to turn your implicit decision drivers and requirements into explicit ones, let the experts at HRchitect guide you through the process. HRchitect is widely considered one of the best strategic technology consulting firms and is your best insurance policy for a successful HCM evaluation/selection project. Reach out to us today!
Jim Morrone, Strategic Services Consultant,  joined HRchitect in 2021, bringing over 30 years of HR and systems experience to the HRchitect team. His blend of functional and technical knowledge across the HCM domain ensures the success of his clients, whether evaluating and selecting, or implementing a new HCM system.
Learn more about Jim on LinkedIn: https://www.linkedin.com/in/jimmorrone/
Share: