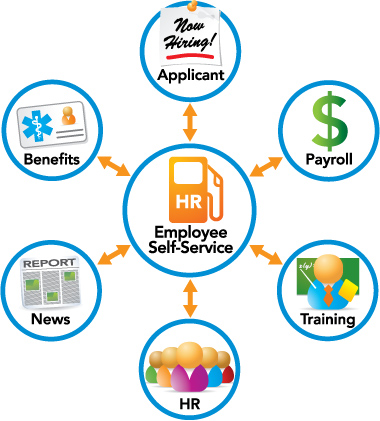 Written by Christine Wood
Employee Self-Service functionality, which is built into most major HCM technology platforms today, allows employees control over their personal information. That means the days of your HR team collecting paper forms to gather and manually update basic employee information in your core HR/Payroll systems can be a thing of the past! Beyond cutting down a significant amount of administrative work for HR teams, the result of introducing Employee Self-Service functionality is better customer service (i.e., happy, empowered employees). Plus, the HCM systems can apply employee changes and prompt related actions when necessary way faster than a human can do with paper-driven processes.
Some of the other employee and employer benefits that arise when Employee Self-Service is enabled, beyond saving the company both time and labor, include:
Increased employee engagement with the HR/Payroll system
Our clients with the highest levels of employee engagement related to Employee Self-Service have been very deliberate in their communication and training strategy before the system rollout. They also make sure to provide multiple behavioral encouragements over time to promote this system engagement.
Better ROI on overall system investment
Your organization has made a significant investment in selecting, implementing, and deploying your HCM systems and employee usage factors into that return on investment.
Decrease environmental impact
Eliminating paper-driven processes is better for the environment, plus you will save money by reducing the amount of paper your department needs to order.
Free up your HR team's time to allow them to focus on more strategic business priorities
Increased employee confidence that their employer is keeping up to date with technology
Increased employee privacy
When the employee is updating their information, only those in HR who need to know will have access to the updated information via the HR systems. There is no chance of paper forms falling into the wrong hands or water cooler sharing of information.
The employee manages the timing of changes
Getting the timing of changes right is especially important with personal information, such as address changes.
Most modern HCM systems have built-in workflow capabilities to allow you to manage notifications and approvals of specific employee-generated changes. An example of this is a remote employee moving from one state or tax location to another. Once the employee logs in and updates their address, you can set up a notification to push this information to other relevant fields within your systems or people who need to know this information. You can set up the same sort of notification for life event changes and the benefits area of your company.
Let us apply this to a real-world example that many HR practitioners have dealt with throughout their careers; Annual update of exempt W-4s.
For most HR/Payroll departments, this recurring annual project comes at the busiest time of year – year-end! If you've enabled employee W-4 self-service and configured your HR/payroll system notifications, you'll breeze through this project. In this scenario, the employee would receive a system notification with a request for a new W-4 form if they've claimed exempt status. The employee is responsible for filling out the new W-4 request, does so, and those changes are automatically processed within your system. In the event the employee does not submit a new W-4 form by the deadline, the system will change the employee filing. With this example, it is easy to see how introducing self-service eliminates or significantly decreases the amount of tracking, emailing, and year-end work that you're probably used to squeezing in during your already hectic year-end period.
If you're excited about the impact that Employee Self-Service could have at your organization, and want to talk through building your business case for approval, or if you're ready to turn on this functionality, please reach out to us. We've helped many clients get more out of their HCM technology system investments, and we'd love to work with you next.
More about Christine Wood
Christine Wood, MBA, PMP, is an HCM Implementation Consultant here at HRchitect. Christine has been a Payroll Director and Manager for over 20 years. She prides herself as a highly effective manager, administrator and problem-solver, able to work effectively with a diverse population in a fast-paced environment. A majority of her career has been in Higher Education with some time spent in Healthcare. Christine is a Certified Payroll Professional with an MBA from the University of Rhode Island.
Share: