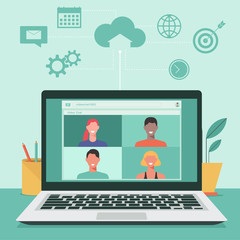 Written by Chris Henien
HRchitect is a 100% remote company and over the years we have learned a lot about creating a remote workplace that benefits the team and drives our consultants to deliver our best work in the form of HR technology consulting services for our clients. Due to the current global landscape, many companies have asked their employees to work from home, but may not have any experience with managing a remote workforce. Derived from my 5 years of personal experience working from home and managing a remote team at HRchitect, below are the top 3 areas you should focus on in relation to managing your (newly) remote workforce.
TECHNOLOGY
The most important aspect of transitioning to a remote workforce is ensuring that your team has the technology tools they need to succeed. First and foremost, your team will need the technology to set up virtual meetings. Zoom, Skype, Microsoft Teams, and GoToMeeting are all great options with varying functionality. This will give your team the ability to have face time, if desired, screenshare during presentations, and even record meetings for those unable to attend. Without the ability to walk over to a co-worker's desk to ask a question, access to online chat functionality will become extremely important for a remote team. Our workforce management consulting team at HRchitect uses Slack but there are many different options out there, including Microsoft Teams to name one example. Utilizing Slack has drastically reduced the volume of back and forth email chains that often clutter inboxes, and has increased team communication and productivity.
STRUCTURED CHECK-INS
Depending on the size and the collaboration style of your team, managers should hold a daily or weekly team status call/meeting, or more personalized one-on-one meetings with each of their team members. Communication between managers and employees could happen any time in the office, occurring more spontaneously whenever there was a need. However, communication needs to be more intentional when the whole team is working from home. Daily or weekly check-ins will become a regular, consistent open forum for employees and managers to ask questions, share concerns, and provide feedback.
SOCIAL INTERACTION
It's now more important than ever to build and maintain strong social connections, especially those in the workplace. Employees are used to going into the office, striking up conversations while grabbing their morning coffee, and going out to lunch with their coworkers. To recreate this environment remotely, consider hosting virtual happy hours or team lunches. This will give the team some time to catch up with their coworkers and break up their workdays. You can also put on virtual trivia or game nights by taking advantage of free websites and mobile apps such as Kahoot! and House Party. These can be fun activities to team build and de-stress during these times of change.
While there are still many unknowns regarding the future of workforce management, we can focus on the things that we can control in order to set ourselves up for success. This includes enabling your workforce with the technology they need to complete their jobs, holding status calls to check in with your employees daily or weekly, prioritizing tasks that need to be completed, and providing an outlet for some social time as well. If there is anything HRchitect can assist with, either helping you manage your newly remote workforce, or helping to keep your mission-critical HR technology initiatives on track during this time, please reach out, and most importantly, stay safe!
Learn more about Chris Henien, MBA, PMP
Share: